When trying to increase the security of your home or business many people often overlook the simple locks that hold the doors shut. These locks are the physical security that protect a building and what prevents intruders on the most basic level. What many people fail to realize is the locks on their doors are the weak link in their overall security. Using High Security Locks is one of the best ways to improve this critical security area. The top reasons for using these high security locks are: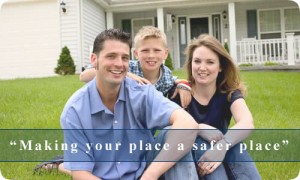 Patented Key Control – Most high security locks use a restricted key system. High Security Keys are patented and can only be duplicated by authorized locksmith dealers. These keys can even use signature verification to prevent the key from be duplicated by an unauthorized person. If you have ever handed your keys over to someone else (i.e. automotive repair, valet, house keeper, etc…) you cannot be sure that they didn't duplicate your key. Most keys can be duplicated at a local hardware store for under $3 dollars. A high security key prevents this, and allows you to keep tight control on who has copies of your home or business keys.
Pick Resistance – Standard locks can easily be picked just like you see on TV. Lock pick sets are easily obtained on the internet and with a little practice, you can be opening locked doors in a matter of minutes or sometimes seconds. High Security locks use numerous pick resistant technologies that prevent a person from picking the lock. Some of the pick resistant items can easily be seen on the high security key where others are hidden within the lock itself.
Drill Resistance – Some High Security Lock Cylinders are specifically designed to resist a drill attack. Opening any lock is a simple as creating a shear line between the inner cylinder and the outer housing. On most locks, this can be done using a small drill and drilling a hole just at the top of the cylinder. It only take a few moments to drill a small hole in most locks. This creates a shear line and the lock can be easily opened. If you think no one knows this fact, think again. Criminals and thieves know this and use it to enter a homes and business in a matter of minutes.
Lasting Quality – High Security locks are simply built better. These locks have all brass and steel components inside. There are no diecast pieces that easily break or can be broken by an intruder. Having a lock to secure your door that is built tough is essential. Using a high security lock will ensure that you get the right quality and are properly protected.
Use this criteria when purchasing a lock to ensure that the physical security is taken care of first. A burglar's worst enemy is time so the harder you make it for them to enter the better protected you are.
Community Lock & Safe Service, Inc. offers customers a better choice in Locksmith services. With over 34 years in the business and still family owner Community Lock & Safe Service, Inc. offers its customers the best peace of mind when it comes to protecting their home or business. Community Lock & Safe Service, Inc. is a Orange County based company and specializes in high security locks. To learn more about products, please click here.